The Indiana bill constitutionally banning gay marriage, HJR3, has been assigned to a Senate committee by Senate President Pro Tempore David Long, the Indy Star reports: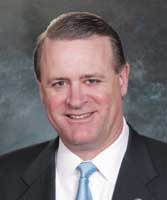 The constitutional amendment, known as House Joint Resolution 3, will now go to the Senate Rules and Legislative Procedures Committee rather than the Judiciary Committee, which is where Long said he planned to send it last week.
Long said he changed his mind after giving the decision more thought, noting that the larger, 12-member rules committee includes top legislative leaders from both parties. Long also is chairman of the committee, which will give him stronger control over the debate. The committee hearing is likely to happen during the week of Feb. 10, he said.
Long, R-Fort Wayne, also said he preferred that any changes to the House version of the resolution be offered on the full Senate floor rather than in committee. Long said he expects the measure to pass out of committee.