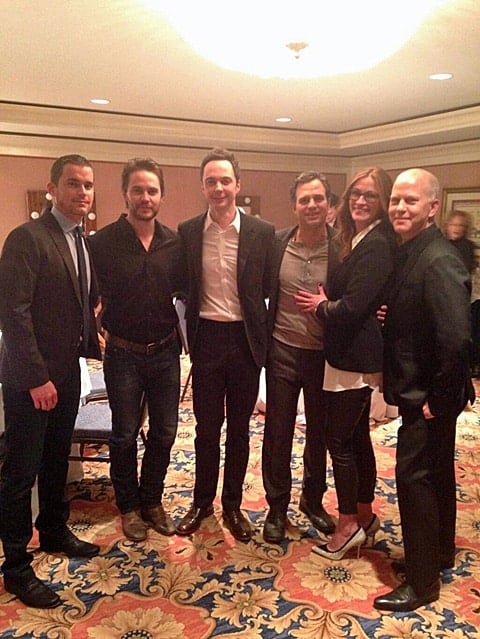 (image source)
The cast of The Normal Heart  — Matt Bomer, Taylor Kitsch, Jim Parsons, Mark Ruffalo, Julia Roberts, and director Ryan Murphy — assembled at the Television Critics Association press tour in Pasadena to preview the upcoming HBO adaptation of Larry Kramer's iconic play on Thursday.
The Hollywood Reporter has a good wrap-up of the Q&A event:
[Julia] Roberts, meanwhile, noted she'd been approached to play the part [of Dr. Emma Brookner, a polio survivor who treats several of the early victims of HIV/AIDS] before but turned it down because she couldn't understand just who the character was at her core. But when Murphy called, the actress watched a documentary on polio and it all came together, prompting her to join the production. "It unlocked the door to who this woman is to me and where her ferocious, relentless pursuit of correctness comes from," Roberts said. "It was such a beautiful experience to get to play her and get to pay tribute to a person who never let anything stand between her and the right thing to do for someone else."
Asked if it was a priority to cast openly gay actors in the project — both Bomer and Parsons are out — Murphy noted he went after the best actor, gay or straight. "We never went after anyone based on sexuality," he said, noting that the world has changed a lot in the past five years.
Parsons and Bomer, for their part, noted that they don't think of themselves as gay actors but rather just actors. "I was only anxious about when the conversation would happen," the Big Bang Theory star said. "Then it happened and it was out there, and it was no big deal — and that was a relief."
The film debuts in May. Some of the first footage was released in an HBO promo in December. Hopefully we'll get a full trailer soon, as one was shown at TCA.