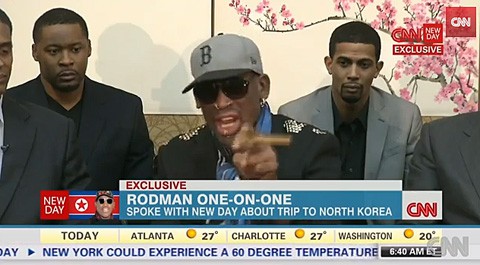 In a statement released earlier today, former NBA player Dennis Rodman apologized for his explosive confrontation with CNN's Chris Cuomo when challenged about his recent trip to North Korea and his refusal to discuss human rights abuses and the detention of Kenneth Bae with dictator Kim Jong-Un.
Read the statement in full:
I take full responsibility for my actions. It had been a very stressful day. Some of my teammates were leaving because of pressure from their families and business associates. My dreams of basketball diplomacy was quickly falling apart. I had been drinking. It's not an excuse but by the time the interview happened I was upset.
I want to first apologize to Kenneth Bae's family. I want to apologize to my teammates and my management team. I embarrassed a lot of people. I'm very sorry. At this point I should know better than to make political statements. I'm truly sorry.
In case you missed the video of Rodman's outburst, you can watch HERE.