Orange is the New Black star Laverne Cox, whose interview with Katie Couric this week made headlines after Cox steered Couric away from a discussion of "private parts" toward one about identity, discrimination, and anti-violence, expressed gratitude on her Tumblr today for being able to elevate the conversation: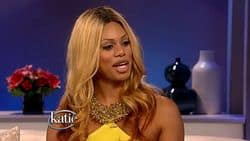 I am so deeply moved by the dialogues that are happening around my appearance with Carmen Carrera on "The Katie Show" on Monday.  It is my dream that by highlighting the deep humanity of trans people's lives in the media, elevating actual trans voices to speak the truth of our lived experiences in ways that don't sensationalize and objectify us, those human voices and stories can be a part of the disruption needed to end the disproportionate injustices that threaten so many trans people's lives, particularly the lives of trans women of color.   It is a state of emergency for far too many trans people across this country.  The stories of women like Islan Nettles and CeCe McDonald are far too commonplace in our community.  I look forward to engaging in more dialogues about the complicated intersectional issues around these injustices and ways to make them a thing of the past.  I am so grateful to Katie Couric and her show for the opportunity to highlight these important issues.
Watch the interview HERE if you missed it.
And if you missed the interview we did with Cox back in August, check it out HERE.