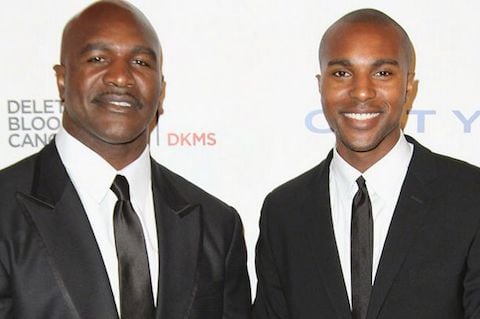 So said boxer Evander Holyfield's son Ewin to TMZ. Unfortunately there's no audio of the statement as stresses and intonation could change whether Ewin's statement came across as naively optimistic about his father (gay or straight, he treats everyone the same) or even more denigrating (even the homosexuals get treated like human beings, even though they aren't).
The younger Holyfield was responding to remarks his father made on the UK version of Big Brother over the weekend.
Regardless, he seems to be as ill-informed as his father as he also said:
My dad feels that being gay is a choice … and naturally that's how things work.  You cannot procreate and make a baby with two women, or two men.  But at the same time, my dad is not going to judge someone for their sexual orientation.
Obviously, arguing that because gay sex doesn't lead to procreation it must be a choice is an argument so fallacious that it's a wonder he didn't try to support his statement with magnets and the commutative property. Also, Evander saying that gays are "handicapped" and being gay "ain't normal" is explicitly judging someone for their sexual orientation. It's all ok though; Ewin has a gay uncle, and Evander evidently treated him like a brother, so he can't be a bigot. Just like Sarah Palin can't be anti-gay because she has a lesbian best friend.