A federal judge will hear arguments on Thursday in one of two challenges to Virginia's ban on gay marriage. The case is Bostic v. Rainey, and the plaintiffs are represented by (Prop 8 lawyers) Ted Olson and David Boies and the American Foundation for Equal Rights.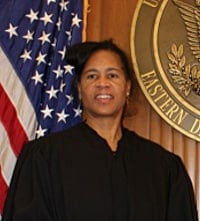 There had been some discussion that the judge might issue a ruling without hearing further arguments after Virginia Attorney General Mark Herring last week declared the state's ban on gay marriage unconstitutional and said he would not defend it in court. Following Herring's statement, District Judge Arenda Allen (pictured) questioned the need for further arguments.
Stuart A. Raphael, the state's solicitor general who serves under Herring, said that while the "ongoing, harmful denial of civil liberties to Virginia's same-sex couples" should be resolved as quickly as possible, the hearing should go forward.
"The decision here will be a landmark ruling in Virginia on one of the most important civil rights issues of our time," Raphael wrote. "The gravity of the matter and the stakes involved make it reasonable to allow the parties to supplement their written submissions … with brief oral argument."
Doing so, Raphael wrote, "comports with the dignity and seriousness of the issues and will obviate any concern that the losing parties were not given a fair opportunity to be heard."
Aside from Herring's office, other parties in the case did not take a strong stand on whether oral arguments should take place. Late Monday afternoon, Allen said the hearing would indeed go forward.
The arguments begin at 9 am in Norfolk.
Also on Monday, Allen said she would not make her final decision at the hearing in U.S. District Court in Norfolk, but would take various pending motions "under further advisement."