A publication has been fined under Russia's ban on 'gay propaganda' for the first time, RIA Novosti reports: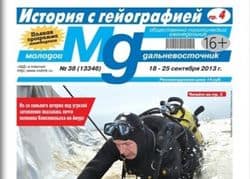 Alexander Suturin, editor-in-chief of the Molodoi Dalnevostochnik newspaper in the Far East, was fined 50,000 rubles ($1,400), local news website Amurburg.ru said Thursday.
Suturin, who blamed the verdict on a "shadow morality police" and "brown plague," said he would appeal.
Molodoi Dalnevostochnik, the oldest publication in the Khabarovsk region, came under fire because it bears a label warning people only above the age of 16 to visit its website, Amurburg.ru said.
A law passed in June prohibited "promotion of nontraditional sexual relations among minors." The age of majority in Russia is 18.
The story in questioned, titled "A History About Gay-ography," dated back to September.
It detailed the claims of a local geography teacher and gay rights activist who said he was pressured into quitting his job at school and assaulted by neo-Nazis because of his sexuality.
We reported on this story back in November after the publication was accused of violating the law.