Another day, another professional athlete telling LGBT players to stay in the closet.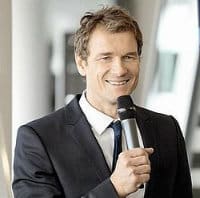 In an TV interview highlighted in Germany's OK magazine, Jens Lehmann — former goalkeeper for the English Premier League team Arsenal — said, "Football is a man thing," adding that a gay player would have to be "crazy" to come out during their professional career as they'd subjects to taunts. He also said that if a teammate had come out during his time as a pro it would have been "strange" since "you shower together every day."
News.com.au reports that "Lehmann's comments have caused uproar in his native Germany, where Thomas Hitzlsperger, who played alongside Lehmann for Stuttgart and Germany, recently admitted he was gay."
Every few months an ostensibly straight player will suggest that gay pro-athletes should remain closeted for the good of the team. Last February it was Major League Baseball pitcher Mark Knudson, in March it was NFL player Christopher Clemons and in September it was footballer Oliver Kahn.
Luckily, European pro-football players like Liam Davis and other LGBT athletes are ignoring their advice.