NY judge alarms gay parents by finding marriage law negates need for adoption.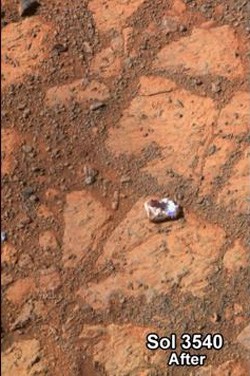 Scientist Rhawn Joseph is suing NASA, saying the agency is failing to investigate alien life on Mars: "The jelly doughnut-shaped rock initially baffled scientists after it mysteriously showed up in images taken less than two weeks apart…Joseph, a key writer with the online Journal of Cosmology, says the rock is 'a living thing' and has now filed a lawsuit in a California court to make NASA examine it more closely."

Behold, the winning GIF from the State of the Union address.

Abercrombie strips CEO Mike Jeffries of his role as Chairman: "Jeffries has served as chairman since 1996. He will remain a director and the CEO of the company.  Abercrombie's stock rose 2% on the news in premarket trading."

Queen Latifah to sing "America the Beautiful" at Super Bowl. "The pregame show also include the singing of the National Anthem, which this year will be performed by opera singer Renee Fleming. Amber Zion will perform in American Sign Language the National Anthem. This year's halftime show will be headlined by Bruno Mars — a winner at Sunday's Grammys — who will be joined by the Red Hot Chili Peppers."

It's Tom Hiddleston's shirtless Thor screen test.

Courtney Love launched her own YouTube channel.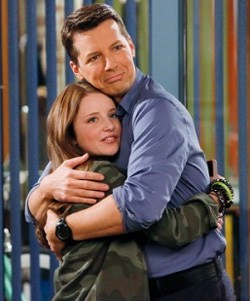 NBC cancels Sean Saves the World: "The show had received a 5-episode back order for a total of 18. Fourteen episodes have been shot, 12 have aired. NBC had already scheduled an SNL Sports Spectacular special this week, preempting its Thursday lineup, and the network brass will look at the remaining two Sean segments after the Winter Olympics."

Woman sues employer in West Hartford, CT over refusing to provide health insurance to her wife.

George Clooney on playing a dog on South Park: "Sparky the gay dog? It was sort of a surprise for me. I mean, here's something odd, I had never played a dog before. To finally play Sparky the dog was something that I think pretty much completed my career."

Andy Cohen has gets his Starbucks buzz and his song on.

Robert Pattinson and Guy Pearce face off in The Rover.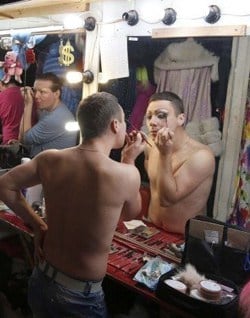 20 photos from Sochi's biggest gay club, and 10 photos of Sochi in general.
"

Ex-gay" Richard Cohen plans major "gay cure" conference in Mexico.

Right-wing radio host Erik Rush calls pundit Sally Kohn an "obnoxious, maladjusted lesbian" pushing society toward a violent breakdown.
E

llen DeGeneres's lesbian-themed comedy pilot gets an order from NBC: "One Big Happy centers on a lesbian who gets pregnant just as her straight male best friend meets and marries the love of his life."

Al Jazeera: Mexico's gay rights movement gaining ground. "This is a wave. Soon it will be unstoppable. All we're asking for is equal rights and this is going to happen in all of Mexico," de la O told Al Jazeera. "Jalisco was considered one of the states where it would be most difficult to achieve this – well, now we've done it. This should inspire all the couples in other states who are fighting for equality."