One of the two federal lawsuits challenging Virginia's same-sex marriage ban is set to have its first court hearing take place in Norfolk on January 30. The Washington Blade reports: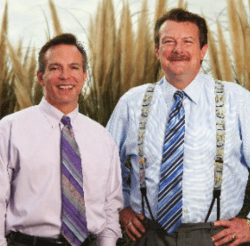 Judge Arenda L. Wright Allen of the U.S. District Court for the Eastern District of Virginia will hold the hearing in the lawsuit that Tim Bostic and Tony London [pictured] of Norfolk filed in July. Carol Schall and Mary Townley of Richmond are also plaintiffs in the case the American Foundation for Equal Rights joined in September.
"This case is about liberty," David Boies said during a Sept. 30 press conference in D.C. during which AFER formally announced he and Ted Olson, who argued against California' s Proposition before the U.S. Supreme Court, had joined the case. "It's about the pursuit of happiness. It's about the inalienable right of every individual to marry the person who they love."
It remains to be seen if newly elected Virginia Governor Terry McAuliffe and Attorney General Mark Herring will defend the state's ban on same-sex marriage in court. Both support nuptials for gays and lesbians. Additionally, McAuliffe's first official act as governor after being sworn in this weekend was to sign an executive order banning discrimination against LGBT state employees. 
The other marriage equality lawsuit, filed by the American Civil Liberties Union, Lambda Legal, and the ACLU of Virginia back in August, received a hearing in federal court back in October. Our own legal expert Ari Ezra Waldman wrote up a great breakdown of both cases a few months back that you can check out HERE.