Cecil Chao, the Hong Kong property magnate and billionaire who offered a $65 million bounty to any man that could woo and marry his lesbian daughter Gigi back in 2012, has now doubled his original offer.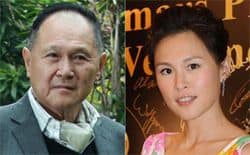 More than 20,000 suitors applied for Gigi's hand in marriage the first time round according to Time, though apparently none passed muster.
But Gigi, who is a prominent gay rights activist and founding member of Hong Kong-based Big Love Alliance, says news of the latest offer has left her partner "distraught".
Speaking to the South China Morning Press, she added: "I don't think my dad's offering of any amount of money would be able to attract a man I would find attractive.
Alternatively, I would be happy to befriend any man willing to donate huge amounts of money to my charity, Faith In Love, provided they don't mind that I already have a wife.
On Monday, Cecil Chao told a Malaysian newspaper that he doesn't want to interfere with his daughter's private life, he just wants her to "have a good marriage and children as well as inherit my business."