Indiana's House Judiciary Committee will hold a hearing on the constitutional amendment banning gay marriage on Monday, WIBC reports: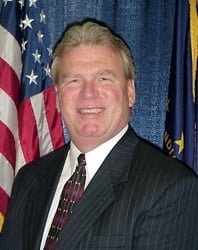 A House committee will debate the constitutional amendment to ban gay marriage on Monday, along with a companion bill explaining what the bill wouldn't do.
Cicero Republican Eric Turner (pictured), the author of the marriage amendment, and Lizton Republican Jeff Thompson have drafted a statement of legislative intent, declaring that the amendment should not be read as undermining domestic-violence laws, preventing employers from offering health benefits to domestic partners, or interfering with wills or trusts.
Opponents of the amendment have warned the ban could have unintended consequences for dozens of laws. House Speaker Brian Bosma (R-Indianapolis) calls some of those predicted problems "red herrings," but says some are legitimate concerns. He points to fears voiced by Indiana University that, as a state university, they could be forced to drop insurance coverage for domestic partners. Bosma says the companion bill should put those fears to rest.
Bosma has assigned both the bill and the amendment to the Judiciary Committee. He says he hasn't counted votes but hopes the legislation will pass.
More at WIBC…
Gannett adds, of the companion bill:
That clarifiying language would appear to address some of the concerns raised by employers and others that the amendment would make employee recruitment difficult and make Indiana appear unwelcoming. The clarifying bill, however, seems to still ban civil unions for same-sex couples — a provision that some see as a step too far.
The amendment would need to pass two separately-elected General Assemblies and be approved by a voter majority in a public referendum before becoming part of the constitution.