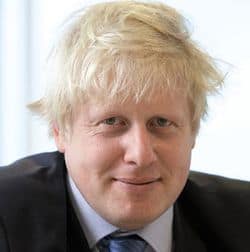 A London Christian organization, The Core Issues Trust, was infuriated when now mayor Boris Johnson (right) banned a series of gay conversion therapy advertisements which had appeared on public transportation. Johnson, able to exact the ban because of his position as chairman of the Transport for London commission, is now being investigated after Core Issues accused him of acting "for an improper use," namely to gain the gay vote in his campaign for mayor. The Core Issues Trust ads read, "Not Gay! Ex-Gay, Post-Gay and Proud. Get over it!" and were a response to pro-gay group Stonewall's own bus advertisements carrying the familiar moniker: "Some people are gay. Get over it!"
BBC News reports:
…ruling on the charity's appeal, the Master of the Rolls Lord Dyson said evidence had been produced of "an email which unequivocally states that the mayor 'instructed' TfL to pull the advertisement" just before the 2012 mayoral elections.
He said the need for examination of the role of the mayor was even greater because the email sent on 12 April 2012 "shows that the mayor's office contacted the Guardian (newspaper) immediately, apparently in order to make political capital out of the story".
Arrangements had also been made for the mayor to appear the following day at a hustings organised by Stonewall.
The judge said: "This is a most unsatisfactory state of affairs."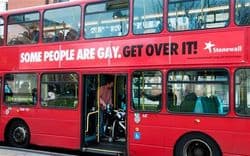 If Johnson is cleared of the "improper use" charge, the judge's initial decision to ban the anti-gay advertisements will stand. The Core Issues Trust is not going down without a fight, though:
Dr Mike Davidson, who leads The Core Issues Trust, said he would write to the mayor to ask for all emails linked to the ban, "current and potentially deleted", to be made available to his lawyers.
Andrea Minichiello Williams, chief executive of the Christian Legal Centre which supported the trust, said: "In a mature democracy both sides of a debate should be heard but it seems that Boris Johnson, Transport for London and Stonewall are intent to shut down the Christian side of the debate by fair means or foul.
"It is a great relief that the Master of the Rolls has ruled to hold to account arbitrary use of the exercise of power by a public authority".
Transport for London reported that it would supply any further evidence needed in court.