Arkady Gyngazov, the former manager of Central Station, a gay nightclub in Moscow which in recent months has been targeted with bullets, poison gas, and vandalism, flew to the U.S. in mid-December and plans to seek asylum, the Washington Blade's Michael Lavers reports: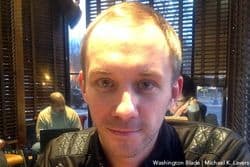 He told the Blade he has obtained a pro bono lawyer through Immigration Equality and the D.C. Center who agreed to take his case. Gyngazov has also worked with Larry Poltavtsev of Spectrum Human Rights, an organization that monitors the Kremlin's LGBT rights record, since he arrived in the nation's capital.
Gyngazov said he will formally seek asylum once his visa expires in June.
"I'm not going to go back to Russia because I feel my safety, even my life, is threatened," he said.
In December, the club's roof was dismantled by over 100 people and the club robbed. This comes after a poison gas attack in late November and a shooting in mid-November in which thugs with handguns fired on the club.
Gyngazov says it has become too much to bear:
Gyngazov told the Blade during an interview from Moscow after the Nov. 16 incident the owners of the building placed a large neon sign above the club's entrance the month before that reads "gay club here." It also contains an arrow that points toward the door.
"I'm afraid because I don't know what will happen tomorrow, what will happen to me," he said on Thursday. "I'm not going to hide all my life."