Svetlana Zhurova, a gold medal-winning figure skater and Russian MP who voted for the bill banning "gay propaganda" is the "mayor" of Sochi's mountain Olympic village, and recently told the independent Russian TV channel Dozhd that she "voted to stop people promoting it to minors," Buzzfeed reports:
Zhurova claimed that many European politicians who oppose the law had told her in private that they actually supported it and that Russian celebrities who support the law had been told by their sponsors to stay quiet. She added, "I just think they shouldn't show a cartoon on TV — excuse me, I have two boys — where a king loves another king." She went on to tell a "joke" about the law: "If someone says he's Napoleon, he'll be taken straight to the appropriate institution. If he says he's a woman, then basically nothing happens to him, he's fighting for his rights."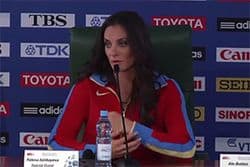 You may recall that Yelena Isinbayeva, the "mayor" of Sochi's sea-level Olympic village caused controversy back in August when she ripped Swedish high jumper Emma Green Tregaro for painting her nails in rainbow colors in solidarity with LGBT people in Russia.
Said Isinbayeva:  "It's disrespectful to our country, disrespectful to our citizens because we are Russians…We consider ourselves, like normal, standard people, we just live boys with women, girls with boys … it comes from the history. I hope the problem won't ruin our Olympic Games in Sochi."