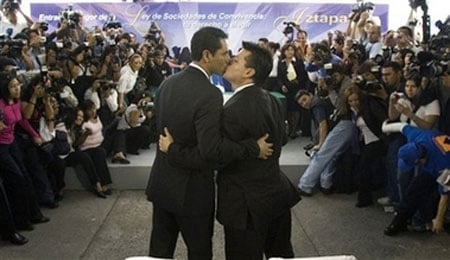 Mexico has been on the forefront of many issues regarding same-sex marriage in recent years, but that does not mean there have not been issues of concern. Though Mexico City legalized same-sex marriages in 2010, and the Supreme Court struck down a ban on same-sex marriage in the state of Oaxaca in 2012, same-sex couples in civil unions and marriages around the country were still unable to receive several public benefits that heterosexual couples could. Now, the Mexican Supreme Court has issued another historic ruling that secures pension and health benefits for same-sex couples, particularly in regards to social security. 
BuzzFeed reports:
The ruling specifically addressed the question of whether someone whose spouse dies is entitled to survivor's benefits under Mexico's Social Security law, which includes pensions and access to medical services. The case was initially brought by a couple who were refused the right to enroll in full spousal benefits, but one of them died before the case was decided.
Mexico's Supreme Court does not usually release written opinions until several weeks after judgements are announced. But according to press reports, Minister José Fernando Franco González Salas explained when announcing the ruling that the court interprets the Social Security law as requiring a same-sex couple's union be treated "the same as if it were a marriage between people of opposite sexes."
This is an exciting development, and one which will apply to more and more couples as the states in Mexico begin to approve same-sex marriage. Currently, marriages performed in Mexico City must be recognized by every other state, though most of them do not have legalized same-sex marriage. However, the Oaxaca decision in 2012 effectively steam-rolled over the logic of marriage bans across Mexico, meaning we may see legal developments in more states soon.