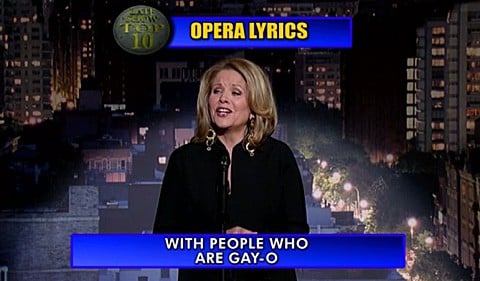 She's made a name for herself as one of the foremost American opera divas, and she's even sung the Top 10 on David Letterman. Now, Renee Fleming is taking (perhaps) her biggest stage yet. The clear-voiced soprano is set to sing "The Star-Spangled Banner" at this year's Super Bowl XLVIII, the first time an opera singer will take on the task, and her rendition is sure to impress.
CBS Sports reports:
This won't be the first time Fleming's performed at a big event. The 54-year-old opera singer also performed at President Obama's first Inaugural celebration in 2009 and at Queen Elizabeth's Diamond Jubilee in June 2012.
Fleming joins a diverse group of people that have handled the national anthem at the Super Bowl, including: Alicia Keys, Kelly Clarkson, Billy Joel, Mariah Carey and the Backstreet Boys.
Here's hoping that sports fans across the country will embrace her on February 2nd.