Supreme Court Justice Sonia Sotomayor has received response from the plaintiffs representing three couples challenging Utah's ban on same-sex marriage to a brief filed by the state on Tuesday urging a halt to gay marriages pending the state's appeal of a case striking down the ban.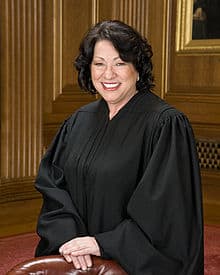 Sotomayor, who had set a noon deadline Friday for the plaintiffs' response, will now rule on her own or ask the full Court to weigh in.
The Salt Lake Tribune reports:
This is the state's fifth attempt to get the order stayed. Shelby denied it once, and the 10th Circuit Court of Appeals in Denver turned down the state's stay request three times. Both courts held that the state's likelihood of prevailing on appeal was unlikely, the plaintiffs' attorneys said.
The 10th Circuit Court of Appeals, however, agreed to review the case itself on an expedited basis. Filings are due in the case by the end of February, after which the court will take it under consideration…
…Magleby and Tomsic say Shelby determined that in previous rulings the U.S. Supreme Court recognized the freedom to marry as a fundamental right based on individual rights to liberty, privacy and freedom of assocation — rights that under the Fourteenth Amendment take precedence over states' rights when there is a conflict between the two. Shelby also found the state did not present even a rational basis, the lowest standard of review, for denying same-sex couples' right to marry, they said.
In a column posted yesterday, our legal analyst Ari Ezra Waldman argues why there should be no stay of marriage equality in Utah.
Read the brief below:
13A687 #3 Plaintiffs' Opposition to Stay by Equality Case Files