Towleroad previously reported on the case of Portland-area gay couple David Beltier and Jeremy Mark, who were attacked while taking their pink poodle, Beauty, for a walk last March. Now, a verdict has been reached for one member of the husband-wife duo of assailants, though the charge is far less severe than it could have been.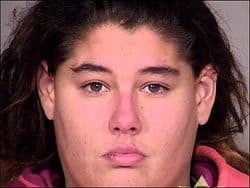 KATU.com reports:
The jury of 12 people found Saraya Sophia Lisa Gardner guilty on one count of obstruction of justice.
Her husband, 23-year-old George Allen Mason Jr. is accused of striking a gay man with a crowbar and hurling gay slurs at him March 1. The attacked happened at 185th and Evergreen next to a busy strip mall…
Gardner's attorney, Thomas Coan, said after the verdict that he and his client were a little bit surprised and disappointed by the verdict.
"We think the government didn't have the evidence necessary to prove Ms. Gardner's intent in this case," he said, adding that he believes some of the evidence presented in the case tainted the jury.
"There was evidence of homophobic slurs that we didn't think was relevant that could have tainted the jury or prejudiced the jury against Ms. Gardner," he said.
Beltier previously reported that he was "happy to be alive," and the trial for George Mason Jr., the physical assailant in this case, will likely begin soon.