The Russian Orthodox Church on Friday called for a referendum on the criminalization of gay sex, AFP reports: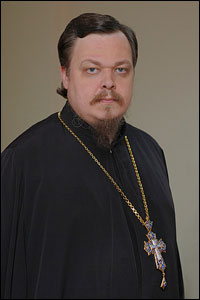 Church spokesman Vsevolod Chaplin pointed to polls showing more than half of Russians viewing homosexuality as either an illness or a crime as a sign that the country was ready to revert to a Soviet-era homosexual ban.
"There is no question that society should discuss this issue since we live in a democracy," Chaplin told the online edition of the pro-government Izvestia daily.
"For this reason, it is precisely the majority of our people and not some outside powers that should decide what should be a criminal offence and what should not," he said.
Chaplin added that he wanted homosexuality banished from Russia:
"I am convinced that such sexual contacts should be completely excluded from the life of our society," said the Church spokesman.
"If we manage to do this through moral pressure, all the better. But if we need to revert to assistance from the law, then let us ask the people if they are ready for this."
Earlier this week Ivan Okhlobystin, the popular Russian actor, sci fi writer, aspiring politician, and creative director of the phone retailer Euroset, called on President Vladimir Putin to criminalize gay sex.