All that's needed to turn Uganda's odious "Kill the Gays" bill into law is President Yoweri Museveni's signature. However, he has made good on his promise to study the law before signing it.
The bill — which was passed by parliament in December — penalizes anyone who aids or abets a known homosexual and punishes homosexuality with life imprisonment. It has LGBT Ugandans afraid for their lives.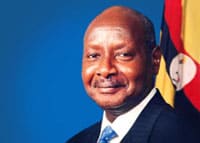 One of the scientists Museveni hired for the study, Dr. Chris Baryomunsi, concluded that "recruiters and promoters (of homosexuality) should be dealt with accordingly" and that "homosexuality [starts] as a result of adventurism," (that is, the willingness to try risky actions, tactics, or attitudes).
Museveni is rabidly homophobic: he considers homosexuality a curable abnormality caused primarily by Western "random breeding," and adds that a strong economy can prevent homosexuality especially since gays regularly ensnare poor young people through prostitution.
Museveni reportedly said that South Africa's retired archbishop Desmond Tutu and the Robert F. Kennedy Center for Justice and Human Rights had discouraged him from signing the bill.