Earlier this month the ACLU sued the state of Utah on behalf of four gay couples married before the Supreme Court placed a stay on a lower court ruling striking down the state's ban. The suit was filed because Utah Governor Gary Herbert announced that the 1,300+ marriages would be "on hold" pending the appeal of that case and would not be recognized.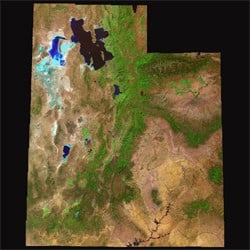 That case will now go to federal court, the Salt Lake Tribune reports:
The Utah Attorney General's Office filed a notice on Tuesday, moving the case from the 3rd District Court in West Jordan to the U.S. District Court for Utah. The case has been assigned to Judge Dale A. Kimball.
…In the ACLU lawsuit, the plaintiffs want the court to declare valid any marriages that took place between Dec. 20 and Jan. 6, when the U.S. Supreme Court stayed the decision, even if Amendment 3 is eventually found to be constitutional.
And in the federal appellate court appeal of the ruling striking down the state's ban, arguments are set to be heard on April 10 by a three judge, randomly-assigned panel, which will also hear the case from Oklahoma:
The 10th Circuit has agreed to let the same panel handle an appeal from Oklahoma, where a lower court struck down a similar ban on same-sex marriage. The court also will allow amicus briefs to be filed jointly in the Utah and Oklahoma cases. The appellate court has set an expedited briefing schedule for Oklahoma, with the last filings due April 7. The last filings in the Utah case are due March 4.