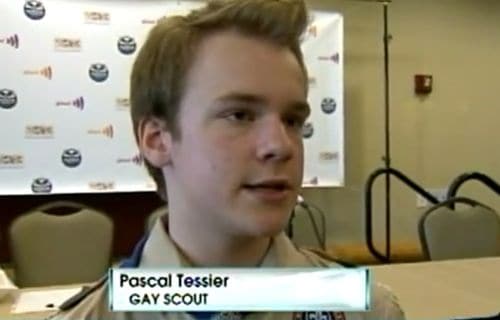 Pascal Tessier was blown away last night when he became one of, if not the first openly gay youths to receive his Eagle Scout ranking. The resolution allowing gay scouts, which passed last May, went into effect on January 1st, and many people believe that Tessier, a member of Troop 52 in Chevy Chase, MD, is the first to achieve the prestigious ranking while being completely open about his sexuality.
Becoming an Eagle Scout is no easy task, requiring twenty-one merit badges, a community service project, and a meeting with a board of review, and Tessier's road was even more difficult to traverse. The teenager spoke, and was open about being gay, to media last year while participating in a demonstration prior to the Boy Scouts of America's vote regarding gay members. The outcome was positive, but Tessier easily could have jeopardized his standing with the Scouts, who still will not allow openly gay adults to participate.
The Washington Post reports:
"It's just really amazing, and it honestly hasn't really sunk in yet," said Tessier, a senior at Bethesda-Chevy Chase High School. "We didn't know if it was going to happen at all."
Both Zach Wahls, outspoken executive director of Scouts for Equality, and Eric Andresen, father of Ryan Andresen, who was denied his Eagle Scout rank due to his sexual orientation just last year, commented on Tessier's achievement.
"I don't know of any other Scouts out there who have said, 'I am gay and I defy BSA to kick me out' — and Pascal has done that," said Eric Andresen…
"The fact that Pascal is now able to get his award is directly because of what Ryan unfortunately went though," Andresen said…
"We certainly think this is a day to celebrate," Wahls said. "As we see more Pascal Tessiers coming up though the program, getting their Eagle Scouts, other scouting parents and other scouting leaders who might be a little more conservative will see there is nothing to be afraid of, that Pascal is a phenomenal young man and people like him make scouting better."
Tessier and his mother, Tracie Felker, were overjoyed at the news, but hesitant about the limitations still placed on gay scouts. And for good reason: Tessier's older brother, Lucien, is also an openly gay scout.
Even as he celebrated Monday night, Tessier was well aware of how the partial policy change could affect him. He will turn 18 in August.
"It's kind of a backhanded acceptance: We accept you for now," he said. "It says to you you're a monster of some sort."
…
Felker said the problem with the Boy Scout's new policy is that it suggests something changes in her children once they hit 18.
"What no one really wants to talk about is the suggestion that gay adults are child abusers, and that is infuriating," she said.
"It's impossible to believe that the creme de la creme of the Scouts, just because they turn 18, are no longer suitable to participate in the programs," Felker said.
For now, though, Tessier sets an amazing example of what openness and honesty can achieve. A formal ceremony will be held for him and other Eagle Scout honorees in June. Congratulations, Pascal!