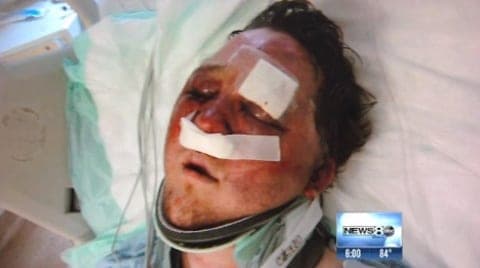 19-year-old Brice Johnson [pictured below] of Springtown in north Texas has been charged with "willfully causing bodily injury to a person because of the actual or perceived sexual orientation" following the savage beating of 24-year-old Arron Keahey on Labor Day last year. WFAA reports:
According to the criminal complaint filed last week in Fort Worth, as well as the WFAA-Channel 8 account from September, early on the morning of September 2 last year Keahey and Johnson connected via the cellphone app for MeetMe.com, which bills itself as "the public market leader for social discovery."
Keahey's profile stated quite clearly that he's gay, says the FBI, while Johnson's page indicated he was not. Keahey would later say he thought Johnson was either gay or bisexual, according to Channel 8′s account. The FBI says Johnson gave Keahy his cell number and home address, and the two men "exchanged text messages planning their sexual activity."
But federal authorities allege that Johnson clearly had other plans: Keahey was attacked the moment he arrived at Johnson's house, says the FBI — beaten, bound and then put in the trunk of his own car, after which, the FBI says, Johnson drove him to a friend's house, where occupants told Johnson to take Keahey to the hospital or else they'd call police. Johnson complied, and Keahey wound up hospitalized for 10 days at Harris Methodist Hospital in Fort Worth, where doctors tended to his myriad skull and facial fractures.
The investigation also revealed that on the night of the incident, Johnson saved Keahey's cell phone using a gay slur as a contact name. Johnson made his initial appearance in court Thursday, where he has yet to be formally indicted. If convicted of the hate crime charge, Johnson could face a statutory maximum penalty of 10 years in federal prison and a $250,000 fine.