A Wichita-based tea party group is attempting to revive a Kansas bill that would allow religious-based discrimination against gays, with the group saying the bill is as much a protection of LGBT rights as it is a protection of the rights of Christians.The bill is currently blocked in the Kansas Senate after a group of Republican lawmakers, including Senate President Susan Wagle, joined the Democrat opposition last week. The Lawrence Journal-World reports: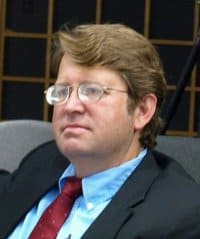 Craig Gabel [pictured], leader of Kansans for Liberty, sent a message addressed to "conservative activists" asking them to contact senators who are refusing to allow a vote on a house bill dubbed the Kansas Religious Freedom Act, The Wichita Eagle reported. […]
"This is not a Christian battle this is a freedom battle, including the freedom of LGBT couples, the sample letter said. "If an LGBT couple owned a meeting space would any of us like to force them to rent it for an anti-gay rally and wedding? Should an African American and his LGBT partner be forced to lease his space or services for a KKK wedding?"
Thomas Witt, executive director of Equality Kansas, blasted the notion that the bill contains anything but pure animus directed at the LGBT community.
"The sophistry is breathtaking," he said. "There's only one target in this bill and it is gay couples."
The only people who would benefit from the legislation are anti-gay individuals who would gain legal protection if they defy their employers and refuse to serve gay couples, he said.