Police are investigating a string of death threats sent to 5-year-old actress Mia Talerico, who plays the lead role in Disney Channel's Good Luck Charlie. TMZ reports: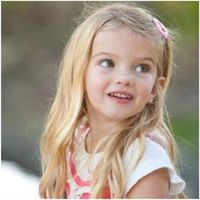 According to police docs obtained by TMZ … Mia Talerico began receiving threatening messages last month on her Instagram — including one reading, "Die Mia, F**king Die in hell! Kill yourself, you deserve to die."
The suspect then sent a picture of Mia's head with a bloody fist covering it … with this message, "Yes, kill you stupid bitch."
Mia's mother contacted Disney security … LAPD's Threat Management Unit got involved … and now cops are making a full court press to track down the suspect.
In an episode last month, Good Luck Charlie became the first Disney Channel show to feature an openly gay couple. It is still unknown, however, if the threats are linked in any way to that episode's airing.