Back in November, Missouri Rep. Nick Marshall (R-Parkville) threatened to impeach Governor Jay Nixon for signing an executive order accepting joint tax returns from gay couples married in other states.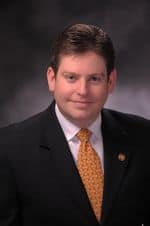 Now, Marshall, along with seven other Republican lawmakers, has filed to impeach Nixon.
Wrote Marshall on Facebook:
I assure you that the Articles of Impeachment filed yesterday are very serious charges that should not be taken lightly by the Governor's Office. If I just wanted publicity, I would have called a press conference. If I just wanted to send a message, I would have picked up the phone.
The Riverfront Times reports:
Marshall's legislative assistant, Beth Peters, told Daily RFT that his objection is about violating the Missouri constitution, which forbids gay marriage, not about targeting LGBT couples.
"If Missouri were a state that allowed gay marriage, we wouldn't be having this conversation. But it's not," says Beth Peters, Marshall's legislative assistant. "It has nothing to do with what people want to do in their personal lives."
Rick Brattin, Jeff Pogue, Ronald Schieber, Mike Moon, T.J. Berry, Kurt Bahr and Ken Wilson are the other Republicans involved.