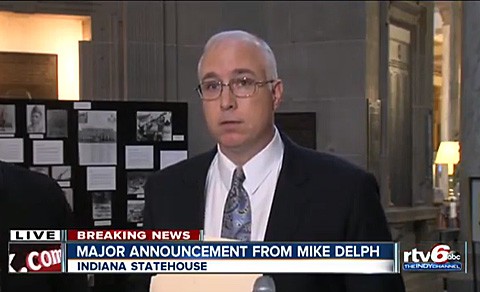 Indiana state Senator Mike Delph is being disciplined by Senate leadership for criticizing fellow Republicans last week for not restoring language to HJR3 that would have facilitated sending the measure to voters this fall, WTHR reports:
According to sources at the Statehouse, Long – the target of much of Delph's criticism – has decided to take the following steps to penalize the Carmel senator for his comments:
Delph will lose his leadership position as the Senate's Assistant Majority Floor Leader of Communications.
Delph will lose his title as ranking member of the Senate Judiciary Committee.
Delph will lose his press secretary.
Delph will be re-assigned to a new seat in the Senate chamber, alongside Democrats and away from Republican leadership.
Delph, as you may recall, made headlines for having a strong anti-gay stance despite the fact that he has a gay brother.