Ugandan President Museveni today hedged on his commitment to sign the anti-homosexuality bill, saying that information and reaction he had received since announcing his decision has prompted him to seek more information.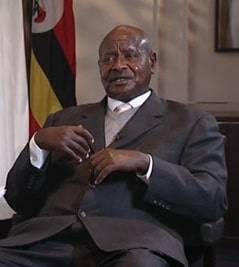 Wrote Museveni in a statement published by the Ugandan Observer:
Their unanimous conclusion was that homosexuality, contrary to my earlier thinking, was behavioural and not genetic.  It was learnt and could be unlearnt.  I told them to put their signatures to that conclusion which they did.  That is why I declared my intention to sign the Bill, which I will do.
I have now received their signed document, which says there is no single gene that has been traced to cause homosexuality.  What I want them to clarify is whether a combination of genes can cause anybody to be homosexual.  Then my task will be finished and I will sign the Bill.
After my statement to that effect which was quoted widely around the World, I got reactions from some friends from outside Africa.  Statements like: "it is a matter of choice" or "whom they love" which President Obama repeated in his statement would be most furiously rejected by almost the entirety of our people.  
It cannot be a matter of choice for a man to behave like a woman or vice-versa.  The argument I had pushed was that there could be people who are born like that or "who they are", according to President Obama's statement.
I, therefore, encourage the US government to help us by working with our Scientists to study whether, indeed, there are people who are born homosexual.  When that is proved, we can review this legislation.
I would be among those who will spearhead that effort.  That is why I had refused to sign the Bill until my premise was knocked down by the position of our Scientists.
I would like to discourage the USA government from taking the line that passing this law will "complicate our valued relationship" with the USA as President Obama said.  Countries and Societies should relate with each other on the basis of mutual respect and independence in decision making.
Read the full statement here.