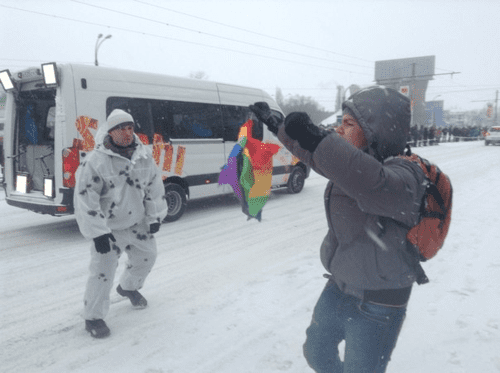 (image vk.com)
BY ANGUS WEST / GlobalPost
The quick-handed muzzling of dissent so far doesn't bode well for protest at the 2014 Winter Games.
SOCHI, Russia — As the 2014 Winter Olympics open, the first stirrings of dissent have confronted a security apparatus that is firmly in place here in Sochi, where accommodations for tourists and press have proven scant but security is everywhere.
With limited options for legal dissent, activists hoping to make a statement about issues including the "gay propaganda" ban and environmental concerns at the Sochi Games are finding it difficult to do so. But some are saying they shouldn't be discouraged because Russia must allow room for activist participation in the scene.
"[Protesters] will have an opportunity to do something, otherwise Russian powers will be blamed of not being democratic," Alexey Malashenko, co-chair of the Carnegie Moscow Center's Religion, Society and Security Program, said.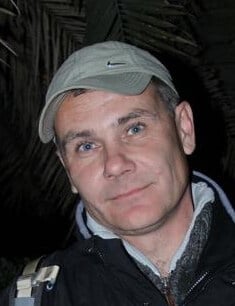 Earlier this week, however, Amnesty International labeled environmental activist Yevgeny Vitishko the first "prisoner of conscience" of the Winter Olympics — a person persecuted for political beliefs and civil activism.
Vitishko, of Ecological Watch for the North Caucuses, an environmental group working in Sochi, was sentenced to 15 days in jail for his role in protesting against alleged illegal deforestation and construction on the protected land on which the region's governor has a private "dacha," or Russian vacation home. The punishment hinders Vitishko's ability to participate in protests during the Olympics.
Vitishko said he attempted to alert local authorities about his plans to travel in Sochi by going to a local penitentiary department, but he was seized while exiting the building and detained, initially on claims that he was being checked for association with a theft near his home. He was later accused of using profanity in public at a bus stop after being handed over to the local police.
"He's [an] extremely gentle and intelligent person and he actually mostly walks or drives rather than takes public transport, so the whole situation looks quite questionable," Damelya Aitkhozhina, Russia researcher for Amnesty International, said during an interview in Sochi.
Russian President Vladimir Putin led a series of restrictive domestic laws in recent years — one of which is the ban on homosexual propaganda — bringing inter-national attention to Russia's domestic policies and Putin's control on the country.
"We generally consider [Vitishko's arrest] part of the general trend of crackdowns on civil society in Russia, which has particularly increased and tightened ahead of the Olympics in this region, but generally it happened all over the country," Aitkhozhina said.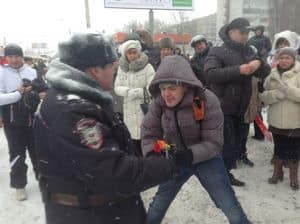 Activists have viewed with particular concern what happened to Paul Lebedev, a resident of Voronzeh, Russia, 600 miles north of Sochi, who was detained by police last month after raising a rainbow flag at the torch's procession.
In a report issued Tuesday, Human Rights Watch stated that physio-logical and physical abuse against members of the LGBT community in Russia peaked in 2013, and called for Russia to improve the situation in light of hosting the Winter Games.
The right to peaceful assembly is guaranteed by the Russian constitution, but Putin imposed new sanctions in 2012 for demonstrations. Although initially banned, sanctioned protests during the Olympics are now permitted in designated areas during the games, or "protest zones." But demonstrators must first obtain approval from Russia's Federal Security Service (FSB), local authorities and the interior ministry.
Still, there are no signs of an official protest zone in Khosta, a quiet district between the Olympic Park and downtown Sochi.
Though the location of the zone — in a small park under a highway — seems to have been consciously chosen to keep approved protesters outside of the public eye.
On Tuesday, the only activists in the protest zone were two older Russian women attempting to convert passersby to Jehovah's Witnesses. While the protest zone may be virtually empty, there is some commotion, albeit less visible.
Some prominent advocates for human rights in Russia, including local lawyer Simeon Siminov, have been denied a "spectator's pass," which is required in order to be present in the Olympic venues for sporting events.
"[Siminov] bought a ticket to see a hockey game, but he was not allowed a spectator's pass, without any explanations," Amnesty International's Damelya Aitkhozhina said.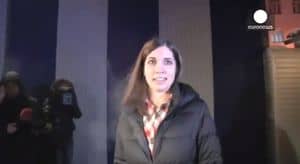 According to Environmental Watch on North Caucasus, members of the group are getting out of Sochi before the games, for fear of further crackdowns. Some observers see rising activism but also growing suppression of dissent in Sochi, and Russia in general.
"You saw, just before the Games the amnesty laws that freed [punk protest band] Pussy Riot and [Russian oil tycoon Mikhail] Khodorkovsky. … On the one hand we're very happy that they're free now, but these kind of amnesty laws can't be a substitute for … a democratic country abiding by human rights," Emile Affolter said.
And it is sustained change and protection for Russia's LGBT community that is the goal for many activist groups visiting Sochi.
"With these Olympics we are really concerned about the activists, what's going to happen to them after the Olympics after Sochi is no longer in the limelight of the world and the cameras have been [shut] off," said Lene Christensen, project manager of Amnesty International's Sochi campaign. "We're now [seeing] the detention and the imprisonment of Yevgeny Vitishko. … that it's already begun."
Christensen's concern was echoed by Amnesty International's Europe and Central Asia press officer, Lydia Arroyo, who said that "whether [there] will be a backlash against those who speak out in the run-up to the games, or just continuation of the same tendency which we saw since Putin's inauguration — progressive clampdown on freedoms of expression, association and assembly — we are waiting to see what will happen after Sochi, and we are waiting with concern."
The International Olympic Committee (IOC) has been largely supportive of Russia's moves to accommodate protests at the games, with IOC President Thomas Bach, speaking at a conference in Sochi this week, warning that the Olympics are not "a stage for political dissent or for trying to score points in internal or external political contests."
President Obama, electing not to attend the games himself, is sending a US delegation including prominent gay athletes such as Billie Jean-King (who has since dropped out). Other international leaders are doing the same. Viviane Reding, EU commissioner for justice, fundamental rights and citizenship, cited Russia's treatment of minorities under current legislation as her decision not to attend.
Activists should encourage their government leaders to speak directly to Putin about human rights laws in Russia, said Emile Affolter, press officer for Amnesty International in the Netherlands. In addition, she said, they should support measures such as promoting the work of NGOs and spreading awareness in the media.
Andrew Miller, a member of New York-based LGBT rights group Queer Nation said that his group plans to continue "protests against Russia's anti-gay laws up to, during and after the Olympics."
Despite recent claims by the mayor of Sochi that he was not aware of any openly gay people in Sochi, media have shown something different — that Sochi actually does have a nascent LGBT community. But many locals in the resort town support Putin's ban on "gay propaganda."
Earlier this week at a local karaoke bar in the Adler district of Sochi, Alexander Muhachev, a 28-year-old from Perm, Russia, who is working in Sochi for the Olympics, said he supports the law.
"It is important to understand that the law does not prohibit such a relationship," Muchachev said. "The law prohibits only propaganda."
"[For] gays and lesbians [it is] really hard to find understanding with … heterosexual society, which is an absolute majority [in Russia]," Muchachev said. The mentality of society, he said, "can not be changed. Thus, the [government's] implementing this law is a logical step."
"I [also] think the government thinks about increasing the birth rate in the Russian society. The last century for Russia was very difficult period. If not for World War II and social Perestroika that we experienced after the collapse of the Soviet Union, we would now be twice as [populous], so now we must restore our nation. This is one of the priorities of our domestic policy."
Olga Ferapontova, 27, who lives in Sochi and works at a bar-and-restaurant in Krasnaya Polyana, where the downhill Olympic events will be held, said she was surprised to read in the news about how open the LGBT community is in Europe.
"I don't care about activists [at the Olympics], but I'm against nontraditional relationships, because it is bad for a child's future."
She said she has many friends in Sochi who are gay, " but they hide their relationships."
"[In the North Caucuses] their religion does not allow them to have this kind of relationship. And if you show that you are gay, they can hit you," she said. "In Moscow it is okay. It is not possible to hide your relationship, that you are gay. It's dangerous here," she said.
When asked if it was possible to speak to any of her gay friends in Sochi, she explained that they were all very busy and unavailable to meet.