Openly gay BBC presenter Graham Norton is reportedly "furious" about Irish broadcaster RTE's decision to pay a $116,000 settlement to anti-gay Catholic lobbying group, calling the decision "absolutely moronic." The settlement came after Catholic lobby group Iona Institute and two prominent Irish journalists threatened legal action after being described as homophobic and "horrible and mean about gays" during a program on the flagship Irish public broadcaster channel last month. BBC reports: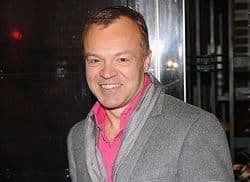 In his Hot Press cover interview Norton said he was disappointed that the journalists had decided to take legal action instead of examining why they might be accused of homophobia.
Although he said he has no desire to get married himself, Norton added: "I want to ask these people, 'Why are you so scared and intimidated by the idea of gay marriage?'" […]
He added: "This tiny minority can yell all they want, but it's over. It's all done. The Iona Institute, and people like that, are like rats trapped in the corner of a barn. They know the jig is up. That's why they're screaming so loud."
However, he added that he was glad gay marriage opponents existed as "they drag everyone towards the centre".
"You hear their opinions and suddenly you're a little bit more tolerant – because you don't want to be them!"