A few days ago Gary's Chicaros restaurant became a common name as word spread like wildfire about the grossly bigoted owner Gary James and his policies against serving ethnic minorities, the disabled, the unemployed, and, of course, the gays.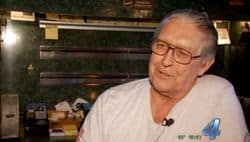 Despite what occurs in some of the darker corners online, the Internet collectively doesn't appreciate a bigot and its denizens have descended upon both the restaurant's Facebook page and Yelp page with 1-star reviews, re-branding the establishment as a gay bar complete with photos of go-go boys and drag queens, and satirical reviews like:
Gary is such a sweet piece of man meat. Put him on a plate and I would just eat it up. This is really the best black gay bar in town. 
The food is terrible, but oh the service you can get from Gary if you know what I mean.  
The bathrooms, or what I like to call the playground is simply not to be missed. 
Gary, you are truly the wind beneath my wings, oh and you might catch me there on Tuesdays Drag show singing that song!
Welcome to the Internet, Mr. James. You will be very uncomfortable here.