Drew Swope, a gay grocery store employee who had a verbal altercation with North Carolina Governor Pat McCrory (right) on Sunday wound up fired. Now, in a remarkable turn of events, he is receiving help from Charlotte's mayor, Pat Cannon, to secure a new job.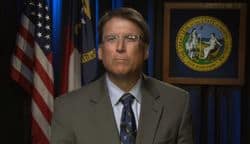 Swope reportedly said, "Thanks for nothing" as McCrory passed by him at Reid's Fine Foods, an understandable sentiment given McCrory's already tumultuous term, fraught with anti-abortion measures and slashed education budgets. Swope claimed that McCrory's response may have had something to do with the employee's sexual orientation.
Talking Points Memo reports:
"…he started yelling at me and eyes were bulging out of his head," Swope told TPM in a phone interview on Tuesday.
The openly gay Swope also told TPM that McCrory was hostile to him "for being a fag."
A spokesman for the governor said that McCrory did not raise his voice, and claimed that Swope actually made an obscene gesture — a charge that Swope vehemently denied.
McCrory's office did not respond to TPM's request for comment.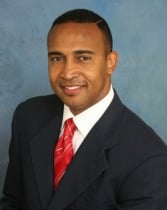 Swope subsequently lost his job, an action which he understood and respected given the behavior he exhibited while at work.
"I wasn't surprised at all," Swope told TPM. "I mean, I would have fired me. I've been in the restaurant business for 25 years. I know the rules."
Charlotte's mayor, Pat Cannon (right) has not taken the situation lightly, however, and he asked Swope to send him his resume so that he could help secure a position for him in the city's private sector.  
"To lose a job is nothing that someone wants to do," Cannon said. "I felt that I would do what I could to help him along the way, if I could make something happen. I have a few leads for him to help him continue being a contributing citizen of Charlotte."