A huge coalition of LGBTQ organizations and allies are continuing to pressure NYC Mayor Bill De Blasio to stop allowing uniformed police and fire officers to march in the "explicitly anti-gay and discriminatory" NYC St. Patrick's Day parade, saying that De Blasio's solution — that he would not march but they could — is not satisfactory.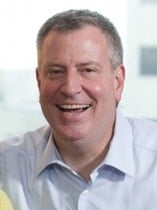 The group responded to De Blasio yesterday with another letter:
Yesterday a broad-based community letter called on Mayor Bill de Blasio to direct NYPD and FDNY Commissioners to stop sending uniformed officers to the nation's largest anti-LGBTQ event—the NYC St. Patrick's Day parade. In response, the Mayor has ducked and punted, saying only that he won't march himself. This isn't much to be celebrated: no truly progressive politician has marched since the parade banned the Irish Lesbian and Gay Organization from marching with its banner in 1991, and Mayor Dinkins stood alongside ILGO only to be pelted with beer cans.
The parade is explicitly anti-gay and discriminatory. Because the NYC Human Rights Commission said it violated the City's human rights law in 1992, parade organizers sought deliberately to define it as a private and religious event in order to continue to exclude LGBTQ people. Indeed, John Dunleavy, the St. Patrick's Day Parade chairman, infamously compared LGBTQ marchers to the KKK being allowed to march in an African-American parade in Harlem.
Police and firefighters march by the thousands, making up most of the parade. (Did you think it was a celebration of Irish pride? That's so 1992.) Their uniforms clearly convey that the City endorses the march. The Mayor's cavalier dismissal of the City's human rights law today compounds that effect. We get it: we LGBTQ people don't matter.
When NYPD and the FDNY wear their official work uniforms and march in the St. Patrick's Day parade, they diminish their sworn respect for the laws of this great city and violate the spirit of the city's human rights law. Employers make rules about uniforms and that's the issue in dispute – the wearing of official uniforms which conveys to the world that this parade's bigotry is endorsed by our city government. But the law protects us, and we will insist that the Mayor uphold it. We are told that we can march if we don't identify ourselves in any way. If that is the way we are to be treated, then City personnel should march as individuals with their counties but not in City uniforms. While we protest the rising homophobia in Russia, Nigeria and elsewhere around the world, we seek to end homophobic discrimination here at home as well. The St. Pat's Parade has a right to its anti-gay march under the constitution. But the City and all supporters of human rights must do everything we can to isolate it.
The full list of LGBTQ groups and allies signing the letter can be found HERE.