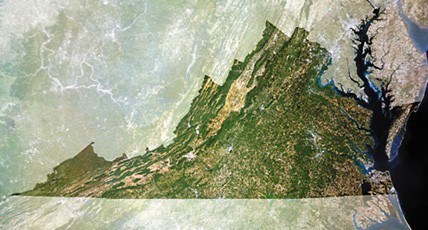 A federal judge has struck down Virginia's ban on same-sex marriage:
The ruling was announced late Thursday evening. The order released around 10 p.m. stated the following:
"The Court finds Va. Const. Art. I, § 15-A, Va. Code §§ 20-45.2, 20-45.3, and any other Virginia law that bars same-sex marriage or prohibits Virginia's recognition of lawful same-sex marriages from other jurisdictions unconstitutional. These laws deny Plaintiffs their rights to due process and equal protection guaranteed under the Fourteenth Amendment of the United States Constitution."
District Federal Court Judge Arenda L. Wright Allen promised to rule quickly after hearing arguments in Norfolk on Thursday in one of two challenges to Virginia's ban. The case is Bostic v. Rainey, and the plaintiffs were represented by (Prop 8 lawyers) Ted Olson and David Boies and the American Foundation for Equal Rights.
The WaPo reports:
"Gay and lesbian individuals share the same capacity as heterosexual individuals to form, preserve and celebrate loving, intimate and lasting relationships," Wright Allen wrote. "Such relationships are created through the exercise of sacred, personal choices—choices, like the choices made by every other citizen, that must be free from unwarranted government interference."
Wright Allen opened her decision with a quote from Mildred Loving, who was at the center of the Virginia case that the Supreme Court used in 1967 to strike down laws banning interracial marriage.
Same-sex marriages will not begin right away as the ruling was stayed to allow parties the chance to appeal.
Here's the full ruling, (via MetroWeekly)