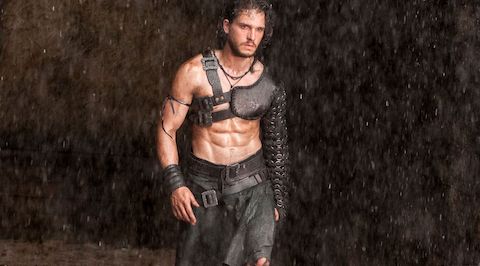 In stark contrast to the heavy coats and furs he wears as Jon Snow in HBO's Game of Thrones series, Kit Harington doffs the winter wear in exchange for a loincloth and arm guard for his role in Pompeii and accompanies the outfit with the perfect accessory of a shredded six pack. In his interview with Vanity Fair, Harington was generous enough to share the secret to his stomach, and it turns out it's a simple 4-part process. All that's required is a daily regimen of:
An hour of lifting weights
An hour of cardio
Two hours of weapons training
An 1,800 calorie diet
Easy! As an added bonus, Harington's weapons training has improved his fighting performance on the set of Game of Thrones as well, so much so that director Neil Marshall called Pompeii director Paul W.S. Anderson to thank him personally.
We thank you too, Neil.