The Russian LGBT Network reports that four activists have been arrested following a protest in St. Petersburg: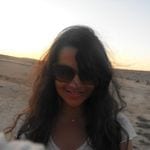 Just now in St.Petersburg 4 LGBT-activists, including one pregnant woman, were arrested. Among the activists were Anastasiya Smirnova (pictured) and Aleksandra Semenova.
The activists were making photos with a banner "Discrimination is incompatible with the Olympic Movement. Principle 6. Olympic Charter" to support the company held today all over the world.
All the arrested will be taken to the 16th police department.
Developing…
(image facebook)