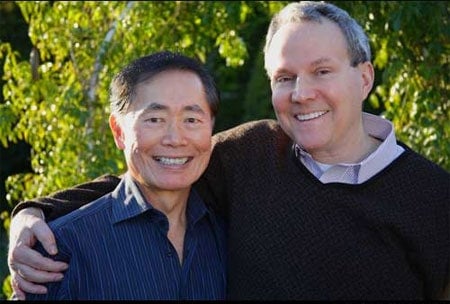 George Takei has taken to his blog to blast lawmakers in Arizona for passing the state's anti-gay SB 1062 bill. Takei and husband Brad Altman own a home in the state.
In his open letter, Takei promises to boycott the state should Governor Jan Brewer sign the bill into law:
Brad and I have strong ties to Arizona. Brad was born in Phoenix, and we vacation in Show Low. We have close friends and relatives in the state and spend weeks there annually. We even attended the Fourth of July Parade in Show Low in 2012, looking like a pair of Arizona ranchers.

The law is breathtaking in its scope. It gives bigotry against us gays and lesbians a powerful and unprecedented weapon. But your mean-spirited representatives and senators know this. They also know that it is going to be struck down eventually by the courts. But they passed it anyway, just to make their hateful opinion of us crystal clear.

So let me make mine just as clear. If your Governor Jan Brewer signs this repugnant bill into law, make no mistake. We will not come. We will not spend. And we will urge everyone we know–from large corporations to small families on vacation–to boycott. Because you don't deserve our dollars. Not one red cent.

And maybe you just never learn. In 1989, you voted down recognition of the Martin Luther King holiday, and as a result, conventions and tourists boycotted the state, and the NFL moved the Superbowl to Pasadena. That was a $500 million mistake.

So if our appeals to equality, fairness, and our basic right to live in a civil society without doors being slammed in our face for being who we are don't move you, I'll bet a big hit to your pocketbook and state coffers will.
Read the entire letter here.