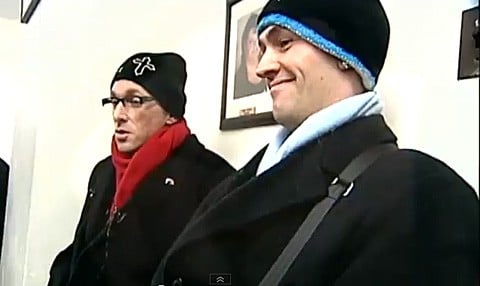 Last Wednesday a federal judge in Kentucky struck down a portion of Kentucky's ban on same-se marriage, ruling that the state must recognize gay marriages performed elsewhere.
On Friday, two couples filed an intervening complaint in that suit, asking Judge John G. Heyburn to extend his ruling on the same grounds – that the constitutional right to equal protection is violated by Kentucky's ban on same-sex marriage – and force the state to allow them to marry.
The AP adds:
…two couples, Timothy Love and Lawrence Ysunza, who have been together for 33 years, and Maurice Blanchard and Dominique James, who have been together for a decade, want U.S. District Judge John G. Heyburn II to issue order the state to stop denying marriage licenses to same-sex couples.
"To have that acknowledged, we would be elated. Obviously, there's a lot to it," James told The Associated Press. "We just want to be treated equal to our heterosexual brothers and sisters. If we can get that, we will be satisfied."
Allison Martin, a spokeswoman for the Kentucky Attorney General's Office, said attorneys were notified of the injunction request Friday afternoon and were reviewing it.
An opinion from Heyburn is expected within the next 30 days.
Towleroad readers may remember that Blanchard, who is a Baptist minister, and James staged a 'pray-in' at Louisville City Hall in January 2013 where they were arrested after requesting a marriage license.