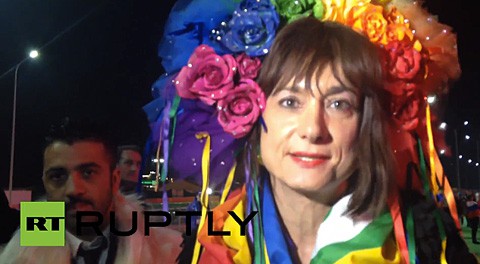 Yesterday Towleroad reported that transgender former Italian MP and activist Vladimir Luxuria and her companions Pio and Amedeo, a duo who star in the Italian television program called Reservoir Dogs and call themselves the Hyenas, were removed from the Sochi Olympic village near the hockey arena.
Luxuria reported that they were hustled away and dumped in the countryside. Her spectator pass was also confiscated:
"I was very, very afraid this time because the first time they said, 'It's OK for the first time, don't do it again for the second time.' So, this time I was a little bit afraid," Luxuria said. "But they just left me outside, in the country, there, outside and that's it."
The International Olympic Committee is defending the actions of Sochi authorities, the AP reports:
IOC spokesman Mark Adams said Tuesday that "what happened yesterday is still a little bit unclear," but said Luxuria had set out to demonstrate at the stadium.
"I know her stated aim to demonstrate in the venue and I believe after a couple of hours when she finally got to the venue I think she was escorted from there peacefully, not detained," Adams said.
He said Olympic Park and the venues are not the right place for demonstrations, and added: "We would ask anyone to make their case somewhere else."
Luxuria was wearing a rainbow outfit and shouting 'Gay is okay' in both Russian and English when she was apprehended.
According to Italian media reports, Luxuria and the two men were asked to leave the country and were to be escorted to the airport this morning at 11:30 am by the Russia Foreign Ministry.