A Kansas bill allowing people, groups, and businesses to discriminate against gay couples based on religious beliefs which passed the House yesterday in a 72-49 vote looks unlikely to gain passage in the state Senate, President Susan Wagle, R-Wichita, indicated in an email on Thursday.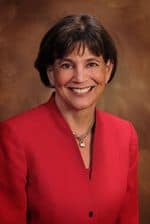 The Wichita Eagle reports on Wagle's email:
"After an initial review, I've grown concerned about the practical impact of the bill," Wagle said in an e-mailed statement. The bill would allow public and private employees alike to refuse service based on religious views of marriage.
"A strong majority of my members support laws that define traditional marriage, protect religious institutions, and protect individuals from being forced to violate their personal moral values," Wagle said. "However, my members also don't condone discrimination.
"If we cannot find ample common ground to ease legitimate concerns, I believe a majority of my caucus will not support the bill."