As you may have read in our earlier reports, trans activist and former Italian MP Vladimir Luxuria was detained twice in Sochi over the weekend. Michelangelo Signorile interviewed Luxuria about her ordeal on his SiriusXM radio show yesterday.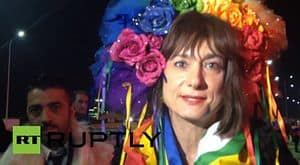 The first time she was detained she was brought to a police station for several hours after trying to visit the gay nightclub Mayak in Sochi. She was carrying a rainbow banner at the time.
The second time she was with her colleagues and they were detained outside the hockey arena after purchasing a ticket to a women's hockey game. She was wearing a rainbow outfit at the time because they had told her she couldn't carry a banner of any kind. She describes being dumped in a rural area.
"At a certain moment I was really afraid, asking, 'What you going to do with me?'" she recounted, noting that the men were making and receiving phone calls. "I was afraid, [thinking], 'Maybe they're going to beat us. Maybe they're going to arrest me.' They let us out, in the middle of nowhere, in the countryside, in the dark. It was a Fellini atmosphere. Me dressed as a fairy queen in the Russian country. I'm not ashamed to say that I cried. I was very nervous. Now I know that the Italian consulate was in touch with the Russian chief of police. And the order was to arrest me and keep me in prison but thanks to the intervention of the Italian consulate, I was released."
Luxuria said that what authorities seemed to really be afraid of was that she would shout something as a political protest near an Olympic venue and that it would appear on TV.
Listen to two segments of the interview, AFTER THE JUMP…