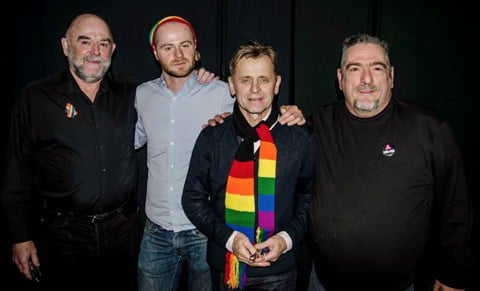 At an appearance in Berkeley, California, Russian dance icon Mikhail Baryshnikov borrowed a rainbow scarf owned by activist Michael Petrelis to show his solidarity with LGBT people:
Baryshnikov is appearing at the Berkeley Rep with a fantastic touring production of "Man in a Case", based on short stories by Anton Chekhov, and after the matinee performance he graciously gave his time to the activists Michael Merrigan and his life-partner Michael Petrelis, both of whom are with the Gays Without Borders activist group, and Robbie Sweeny who operates the Facebook page Boycott4Russia.
After introductions were made, Baryshnikov directed everyone to a backstage black curtain and said it would be a terrific background for the photo. Sweeny thanked him for agreeing to participate in showing support for gay Russians. This photo-op was at the initiative of Sweeny. Petrelis asked if he wanted to don the rainbow scarf he was wearing, Baryshnikov readily said yes and soon the international symbol of LGBT liberation and pride was tied around his neck and displayed over his chest.
Baryshnikov has condemned the persecution of LGBT people. In October he made a statement to the No More Fear foundation:
"My life has been immensely enriched by gay mentors, colleagues and friends and any discrimination and persecution of gay people is unacceptable. Equal treatment of people is a basic right and it is sad that we still have to even speak about this in [the] 21st century. I salute NO MORE FEAR foundation for stepping in so quickly to provide the much necessary assistance to gay and lesbian people who are fleeing prosecution and help them lead a proud life in their new country."