A Missouri GOP lawmaker has introduced a 'license to discriminate' bill similar to Arizona's SB 1062 that appears to be trying to slip under the radar by not specifically mentioning sexual orientation, even though "the bill could provide legal cover for denial of services to same-sex couples," the Kansas City Star reports: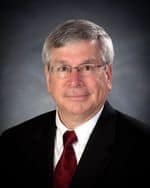 The legislation, sponsored by Sen. Wayne Wallingford of Cape Girardeau, states that a governmental authority shall not substantially burden a person's free exercise of religion unless the government demonstrates that it has a compelling interest.
To supporters of the idea — similar to legislation filed in several other states — the goal is to make it clear that private individuals can use religious beliefs as a defense in litigation.
"We're trying to protect Missourians from attacks on their religious freedom," Wallingford said.
Opponents contend bills like Wallingford's would allow businesses to discriminate against anyone they do not like, most notably gays and lesbians.
"It's a legislative attempt to legalize discrimination toward (lesbian, gay, bisexual and transgender) individuals," said A.J. Bockelman, executive director of the LGBT rights organization PROMO.
Zack Ford at Think Progress notes that three of four recently introduced 'license to discriminate' bills — in Georgia, Ohio, and Indiana — have stalled, likely due to the attention on Arizona's bill. Similar bills in Kansas, South Dakota, Tennessee, Maine, and Idaho have also met with resistance.