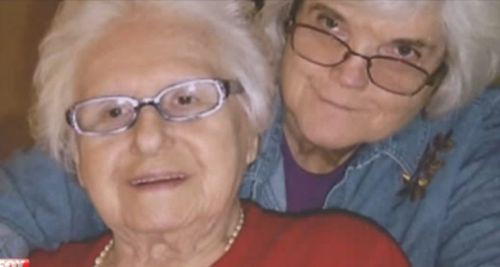 When Carol Parker's (above right) partner was mentioned in her deceased mother's (left) obituary this December, the priest at their local Catholic church took notice and took action.
Parker and her partner, Josephine Martin, were members of Saint Columban Catholic Church for 12 years until the priest, Father Benjamin Kneib, denied them communion upon learning of their romantic partnership. Parker sang in the choir, and worked as a cantor and lector for the church, and both women were saddened by the church's actions.
Fox News 4 reports:
"He had called me the day of the rosary and said he wouldn't be able to give us communion because of our same-sex relationship," said Parker.
The couple says they will never step foot in the church again. Parker said it took away a final opportunity.
"It was very important to me, my last opportunity to worship here at the church with her," Parker said…
"To be singing in the choir and be lectors, and everything, it's all God. He just took it away in a second," Martin said. "I just really don't understand where his heart is."
Fox News 4 attempted to contact Father Kneib, but his secretary said "he did not wish to comment." Parker and Martin have found a new place of worship where they are accepted. Parker has also found resilience in faith.
"My faith is strong enough that I wasn't going to let this deter me to go to church," she said.