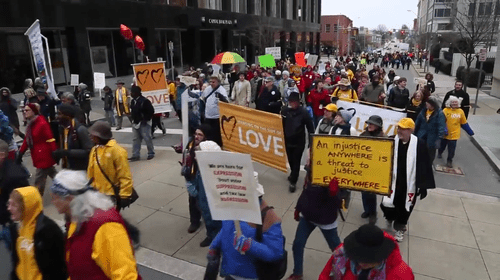 Citing the "immoral" legislation enacted by Republican lawmakers in the state, thousands of dissatisfied North Carolina voters and activists rallied at the capitol in Raleigh over the weekend pushing for social justice. WUNC reports: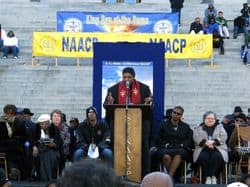 On Saturday morning, tens of thousands chanting and holding banners filled downtown Raleigh's Fayetteville Street from side to side for five blocks. They were there to hear The Rev. William Barber of the state NAACP. At the end of the street in front of an American flag that snapped over the old State Capitol building, Barber preached, his voice thundering through speakers.
"We are people, we are natives and immigrants, we are business leaders and workers and unemployed, we are doctors and the uninsured, we are gay, we are straight, we are student, we are parents, we are retirees," Barber said. "We are North Carolina. We are America. And we are here, and we ain't going nowhere."
The "Mass Moral March" was organized to push against much of last year's Republican-led legislation in the state, including new abortion restrictions, voter identification requirements, and cuts to unemployment benefits.
Check out footage of the rally, AFTER THE JUMP… 
Newsobserver reports than there were few counter-protesters at the march itself, but conservative organizations and leaders in the state later criticized the rally for its "divisive rhetoric" and "far-left agenda."
"The so-called Moral March on Raleigh is anything but moral," Tami Fitzgerald, executive director of the NC Values Coalition, said in a news release. "It is spearheaded by groups that support abortion and homosexual marriage."