Dozens have been detained across Russia in efforts to silence protests ahead of the Sochi Games, the NYT reports: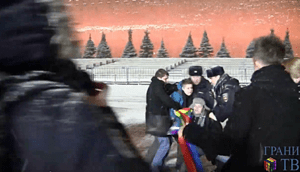 From St. Petersburg to the Caucasus, the authorities detained at least 61 people on Friday for holding unauthorized protests ahead of the opening ceremony of the Winter Olympics in Sochi. The detentions underscored the government's efforts to stifle protests even far away from the Games.
This includes, as we noted earlier, 10 LGBT activists in Moscow (the NYT puts that up to 19), and 4 in St. Petersburg.
Buzzfeed reports that those arrested in Moscow were beaten in the police station, and relayed these text messages to Buzzfeed's J Lester Feder:
Text message from me: We didn't sign anything. Are you all still there?
From them: Yes, in cage. They beated [sic] two of us
Me: oh no, who? What can we do? Can you keep reporting? Are all of you in the same cage?
Them: Two queers. Before that they took us upstairs and said that we have to "suck their c–ks" and that we have to be burned. When we said that we gonna complain. So they bring us back to cage. So we dont let them close it without paper, pen and their names. So they beat two of us and then used cuffs
Them: Yes we are together. Now we are singing
New text from them: They beated [sic] our people again – cause we asked to let our public defender come to us. They didnt give us any docs