Frozen, Disney's latest CGI offering for families, has been met with critical and financial success, its song "Let It Go" has over 100 million views on YouTube, and has achieved a level of penetration into the collective cultural consciousness that the house of mouse hasn't seen in quite some time. Despite most viewers generally regarding the film somewhere between "Ok" and "Amazing", one Mormon grandmother took grave exception to the film and wrote on her website Well-Behaved Mormon Woman an excessively lengthy blog post about how Frozen is promoting the gay agenda.
Yes, really.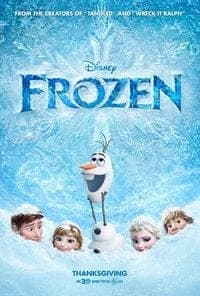 Among the film's evidently many pro-gay subtexts are:
Elsa has a great power that she has been taught by her parents from the time she was a child, is not publicly acceptable and that she must fear its expression, at all cost, thus hide it from people, even her own sister who could be hurt by it – even killed. Shame is at the core of Elsa's feelings about her magical powers: same-sex attraction.
Even "Let It Go" doesn't escape condemnation:
The words to "Let it Go" are clearly not Christian-values friendly, by any stretch of the imagination, when understood and heard. This is not an innocent song, with a catchy tune. It is rebellious. It mocks moral absolutes. It is careless. It is unaccountable. It is anti-obedience. It is regardless. It is selfish. And if you still disagree, then by all means, feel free to show me how I've misinterpreted the lyrics.
Never mind that most of all Disney films use some form of rebellion as the driving force behind the story. However, it's all ok, because she's totally not anti-gay:
Let me be very clear about one thing, I am not anti-gay nor am I here to judge homosexuals not worthy of their rightful and respectful place among society. However, I draw the line at the idea of redefining traditional marriage to include homosexual relationships, as equal.
Obviously the film is telling the story of the outsider, a trope that films and books have used since time immemorial with the X-Men films being one of the more recent examples, and homosexuals happen to fit nicely in to. Somehow, though, Frozen telling that story is secretly gay indoctrination, as one poor father discovered when he realized that the movie totally completely turned his son homo.
Case in point, I took Will to see Frozen about a month ago. He loved it. He started singing all the songs like "Let It Go," at the top of his lungs. I thought it was adorable — until WBMW peeled back the onion to reveal it as a gay anthem (It's time to see what I can do / To test the limits and break through / No right, no wrong, no rules for me / I'm free). Might as well throw a headdress on him and make him sing YMCA!