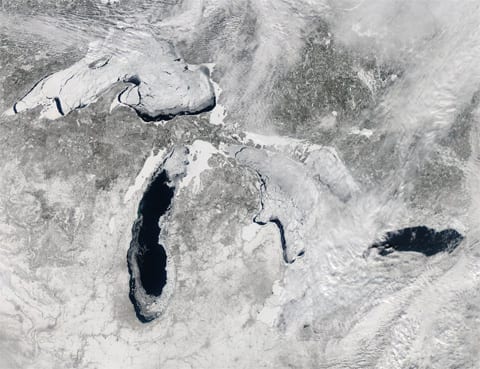 The polar vortex has caused record ice coverage on the Great Lakes this year.
NASA published this photo taken by its Aqua satellite on February 19, 2014:
Ice cover on North America's Great Lakes reached 88 percent in mid-February 2014—levels not observed since 1994. The average maximum ice extent since 1973 is just over 50 percent. It has surpassed 80 percent just five times in four decades. The lowest average ice extent occurred in 2002, when only 9.5 percent of the lakes froze…
…The second, false-color image (below) uses a combination of shortwave infrared, near infrared, and red (MODIS bands 7-2-1) that helps distinguish ice from snow, water, and clouds. Ice is pale blue (thicker ice is brighter), open water is navy, snow is blue-green, and clouds are white or blue-green (depending on temperature and composition).
The polar vortex is scheduled to return next week.