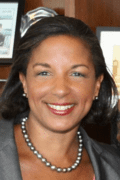 National Security Advisor and and former UN Ambassador Susan Rice tweeted on Sunday evening that she had communicated with Ugandan President Museveni and urged him against signing the anti-gay bill.
Said Rice via Twitter:
"Spoke at length with President Museveni last night to urge him not to sign anti-LGBT bill. #Uganda…Told him it will be huge step backward for Uganda and the world…People everywhere deserve freedom, justice, and equality. No one should be discriminated against for who they are or whom they love….Deeply saddened this decision will put many at risk and stain Uganda's reputation."